Long Term Care Insurance
Why you should contact Wright & Associates, LLC to review your asset preservation plan today:
According to The Public Policy Institute, about 13 million people aged 18 and older needed assistance to perform normal, everyday activities and over 70 million had some type of activity limitation; about 60% (7 million) adults, 65 or older, needed help with everyday activities.  All in 2014. 
The question should never be, "why do I need a plan?". Rather, it should be "When will I need my plan?"  As we get older, we get weaker and we get sicker.  On average, 52 percent of people turning 65 today, will develop a severe disability and require assistance at some point.  Can you answer definitively how long you will live? How much, or how little care you will require? or how much you or your family will be able to commit to your care before losing it all?
If you are unable to answer any one of these questions, it behooves you to have the necessary and logical conversation with us and your immediate family.  In many cases, you may be able to effect coverage without cost.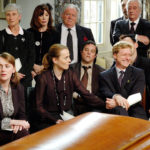 How to leave an inheritance that doesn't tear your family apart (via MarketWatch)
-
A family wealth expert offers advice for parents. From: MarketWatch